Upfront and honest with Warde Groupage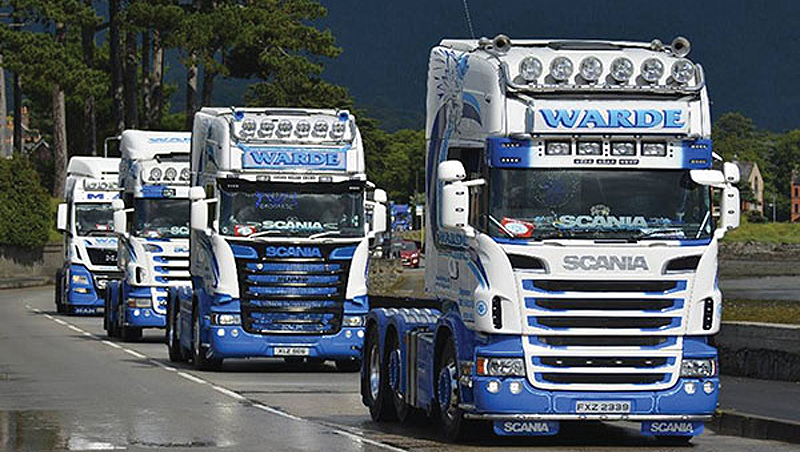 Honesty and integrity are qualities that lie at the very heart of Warde Groupage in Newry, County Down. We met up with Gareth Warde to get an insight into day-to-day activities at this exceptional, long-running family operation, which provides a keen next-day groupage service island-wide.
For four-and-a-half decades, the Warde name has been synonymous with providing an excellent all-Ireland groupage collection and delivery solution to a growing number of satisfied customers, consistently providing a high-quality service and experiencing steady growth as a consequence.
Striking the perfect balance between traditional and innovative, this solid family-run operation offers a wide range of transportation services including distribution, express groupage, full- and part-load haulage, storage and warehousing, using an immaculately maintained fleet of vehicles to give customers the optimal level of service – on time, every time.
Warde Groupage takes great pride in maintaining their vehicles to the highest standards and all are driven by highly experienced personnel drivers who are in direct contact with the office via mobile phone and trackers, thus giving customers complete peace of mind. The County Down company takes great pride in the presentation of their vehicles and this can be noted when the eye-catching white-and-blue fleet is seen on the roads of Ireland.
Warde Groupage continuously strives to ensure the highest possible standard of service. The business has been gradually built up over the years and today is in the very capable hands of Lorraine, Gareth and Kyle Warde.
The fleet comprises eight 18-tonne rigids; seven artic units, two of them pulling urban trailers for increased ease of access; and two vans. The fleet is a mixture of Scania, DAF, Volvo and MAN. When we dropped into their main hub on Newry's Tandragee Road, they had just take delivery of two striking new Euro 6 lorries – a MAN TGX 480 and a Scania Streamline 520.
This significant investment epitomises Warde Groupage's ongoing commitment to providing the most efficient and cost-effective service possible. "We try to keep on top of the fleet," Gareth notes, "The key to any successful business is working hard and ensuring customer satisfaction and for us a fresh fleet certainly helps in this regard. We hope to add another couple of brand-new units for delivery in January which can only add to our efficiency."
As the company name suggests, groupage is very much the speciality service. "We specialise in the next-day groupage, of full and part loads all over Ireland," Gareth confirms. "While we collect groupage out of Dublin and the South of Ireland for next day delivery into the North we also collect across Northern Ireland for distribution throughout the South of Ireland. This is again for a next day delivery and is worked through the Palletxpress network."
Wardes are one of the founder members of the game-changing Palletxpress network through which they can also offer groupage to the UK.
No load or item is considered too large or too small. Warde Groupage regularly delivers everything and anything from a full load of timber, water cylinders or wooden flooring to a single pallet, box or carton. At the end of the day, it's all about satisfying customers' needs and in order to do this flexibility is a prerequisite.
In terms of trailers, ongoing investment is also a key part of the business strategy. To date this year, two quality trailers have been added to a fleet which now consists of 14 curtainsiders, three double decks and the two aforementioned urban trailers which are ideal for city centre tail-lift deliveries or for getting loads into any areas where space is confined or restricted. "We handle a lot of animal feeds, for example, and you have to be equipped for that," Gareth notes.
As mentioned at the outset, honesty and transparency continues to be part and parcel of the Warde Groupage ethos. "We are upfront and honest," says Gareth. "We tell our customers the truth – not just what they want to hear. If a problem arises it is dealt with professionally and efficiently. Customer satisfaction relies on trust and goodwill and we have found that our customers appreciate being kept in the loop in an open and frank manner and are happy with this approach."
At present, gainful employment is provided to a loyal, conscientious and highly-professional team of 30. Warde Groupage is currently experiencing growth, with continuous strong demand for their services. "We're definitely still on the way up." Gareth confirms. "Our priority is to keep our existing customer base happy, while at the same time continuing to expand. This will be achieved with thoughtful forward planning and commitment. 
Operating out of a well-appointed facility on the outskirts of Newry, replete with yard, warehousing and an office block, Warde Groupage is in a very strong position going forward.
Warde Groupage,
19 Tandragee Road, Newry,, County.Down.
Tel: 028 30263336 / 30263381
Fax: 028 30266610
Email: info@twgs.co.uk