Tipp' s top transporter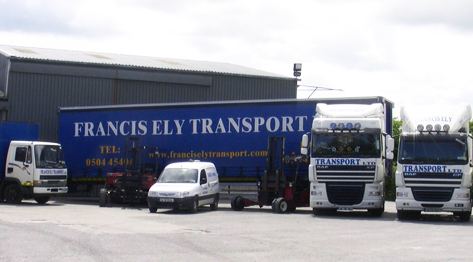 For more than 20 years, Francis Ely Transport Ltd in Co Tipperary has been delivering an unrivalled transport service to its large customer base. Irish Trucker caught up with the man himself to learn more.
Headquartered in Athnid, Thurles, Co. Tipperary, Francis Ely Transport Ltd is a family-run transport company, which covers nationwide next day deliveries and collections through their association with the PalletXpress Network.
The business was set-up by Francis and Majella Ely while Francis' brother-inlaw, John, is also part of the team.  The company is based approximately seven miles from Thurles and Templemore and are within easy reach of the M8 motorway. 
 In 2010, the company became the main agents for PalletXpress in Co Tipperary, growing them even stronger over the past six years despite the economic downturn in Ireland.
"We're established 20 years now in total and have 25 staff here at the moment," explained Managing Director, Francis Ely.
"Most of what we do is delivering nutrition and animal feed and we'd do a bit of refrigeration work for the supermarkets as well. We have to do that supply by Moffett Mountys and we'd be the agent for PalletXpress for the last six years now. Before that we had been with others."
Francis' background saw him working in the transport industry from a young age before taking the decision to go out in his own around 1996 and he hasn't looked back since, with his fleet and staff numbers having swelled since that time.
He is happy to report that the company is experiencing busy times at present and he's confident about the future.
"Business is good enough right now," stated Francis. "We've traded through the downturn and last year we got a good bit of a lift and that has continued now into 2016, thankfully."
Outside of the company's work with the PalletXpress Network, Francis Ely runs loads out of Cork and Dublin on a daily basis and covers all over Tipp, as well as parts of Kilkenny, Laois, Offaly and Limerick.
The company has built up a strong customer base over the past two decades, particularly in its home county, and Francis is proud of its strong reputation.
It's a reputation that is known all throughout Ireland at this stage, as the man himself explained.
"It's all repeat customers that we have here," said Francis. "In Tipp, we give them a good service and we can deliver anything from a carton to a pallet to a load. PalletXpress helps us to provide the service nationwide."
Indeed the reputation that Francis Ely Transport Ltd has forged for itself is unrivalled and it comes off the back of hard work, punctuality and honest endeavour. 
The Thurles outfit have always treated its customers and clients with absolute respect, which has undoubtedly been a huge factor in the company's growth year on year. 
By providing a quality, affordable and punctual service for past 20 years, the company has developed itself into one of the premier haulage firms in the south east. After being appointed as Tipperary's main agent for Pallet Xpress, it continues to go from strength to strength and the future looks very bright indeed.
"We have a strong list of regular customers who form the backbone of the business," said Francis.
"As well as the core base of customers, many of who have been with us for years and who have stayed loyal to us, we also have occasional clients who help us fill the trucks.  The long-serving customers are absolutely vital but we treat every job with equal importance, no matter how big or small."
Along with Animal Feeds, the other sectors of the industry which Francis Ely Transport Ltd cover include Horticulture, Printing and Packaging, Machinery Distributors, Timber Manufacturers and Refrigeration Distributors.
All of these take an extensive fleet and, at present, the company have a total of 15 trucks on the road, including rigids and artics. 
They have their own workshop/garage and make sure that all vehicles are in optimum running order at all times. While the majority of its 25 staff members are drivers, Francis Ely Transport also employs office personnel, along with two mechanics that operate the company's fully equipped workshop.
"We have nine tractor units here which are made up of DAF and MAN. We have six rigids, which are DAF and IVECO and nine trailers. We also have five Moffat Mountys," explained Francis.
"There's 18,000 square foot of warehousing here and there's two mechanics employed full-time."
The majority of Francis Ely's fleet are DAF truck and the reason he has decided to stick with the brand down through the years mostly comes down to their reliability.
 "We choose DAF because of our relationship with the supplier in Co Cork and also we find that they're a very reliable brand," he said.
"John O'Mahony in Cork sold us our first DAF truck 20 years ago and we've struck with the brand ever since."
Recently, there have been two new additions to the fleet which Francis has been looking forward to getting out on the road and testing out.
"We bought two new MAN trucks this year off MS Commercials Ltd in Wexford and they've just been introduced to the fleet now, so hopefully they go well for us and we stay busy on the roads."
Staying busy never seemed to be a problem for Francis Ely Transport Ltd and one wouldn't be surprised to see more growth from the company upon the next visit
Contact Francis Ely Transport Ltd at Athnid, Thurles, Co Tipperary .Tel: 0504 45404. Fax: 0504 45403 Web: franciselytransport.com. E-mail: info@franciselytransport.com